This car will get the 461 Olds from my Vista. For now it will have manifolds on it instead of headers because I can't afford BBO/G-Body headers right now. Hopefully the swap will be completed late Aug early Sep. 02. Looking for 13's at the strip.
The car now.....
1984 Oldsmobile Cutlass Supreme
Engine: 231 V6
Trans: Turbo 350 with about 5K mi rebuilt w/ TCI parts except B&M shift kit.
Rear : Stock 7.5" open w/ unknown ratio but it ain't a good one (2.29,2.41 maybe)
Body : Some rust should be easy fix
Tires : 245/60/14
Wheels : Alum slots
Interior : Stock bench seat column shifter
The Future......
Engine: 461 Olds from my Vista (still fresh, hasn't been started)
Trans: same TH-350 maybe a 2004r later
Rear : 7.5" with better gear + limited slip till it blows then a 8.5" swap
Interior : Switch to buckets and console
Body : Fix rust, I have a 4" cowl induction hood but it may detract from the sleeper look though : )
Wheels: 15's or 16's
Suspension : Stiffer springs, rear sway bar
Thanks to ....
Russell for giving me the car.
My wife Angie for supporting my car habit.
My Uncle Den for the awsome deal on the motor.
And everyone else who has helped me out
UPDATE:
This project has been cancelled due to bad frame :(
I will keep looking for another G-Body to build up but
for now the Vista keeps the 461.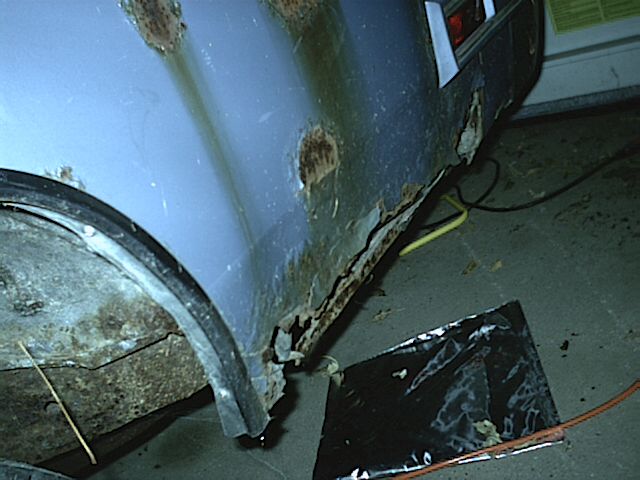 Some shots of the quarters. Believe it or not the frame is worse.